About the Centre

Who we are:
The Career Development Centre is a structural division of HSE Directorate of students' potentials development. The centre was established as a student organization in 2002, it became a department of Administration of career development and cooperation with HSE graduates in 2006, and it was instituted as an independent HSE structural division in 2009.

Our main goals:

Improvement of HSE students and graduates competitiveness at the labour market;
Assistance in the choice of career development sphere.   

What our activities include:
The staff of the career development centre realizes set of events aimed at advancing of relationships between HSE and industrial partners all year round. Also the centre provides HSE students and graduates with assistance in maintenance of their career path. 
Who do we work with:
The centre cooperates with more than 800 Russian and foreign companies such as Sberbank, VTB24, Citi, Goldman Sachs, Bank of America Merill Linch, Gazpromneft-lubricants, IBM, Rosneft, Google, Procter&Gamble, Coca-Cola, EY, Mercedes-Benz, Bloomberg, McKinsey, the Ministry of Economic Development of the Russian Federation, the Ministry of justice of the Russian Federation,the Ministry of Industry and Trade of the Russian Federation. The centre regularly holds joint events (presentations, seminars, master classes, workshops, business games etc) with these companies.

What are we doing precisely?

We organize the largest HSE career event -

HSE Career Fair;

We hold joint lectures, master-classes and seminars with the best employers;
We consult students about building a career, writing a resume and employment assistance.

If you have any questions, email career@hse.ru – we will imminently answer!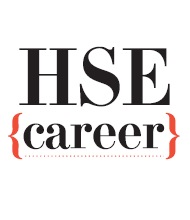 Have you spotted a typo?
Highlight it, click Ctrl+Enter and send us a message. Thank you for your help!
To be used only for spelling or punctuation mistakes.