About the Centre
The Career Development Centre cooperates with HSE business partners. The main goal of the center is to help HSE students and graduates build a career and get a job. The centre was created in 2002 as a student organization; in 2006 it became part of HSE structure and in 2009 it was established as an independent administrative department.
The main activities of the centre include organizing career events, advising students on career issues, organizing internships for students and offering employment opportunities to graduates, and conducting research on the youth labour market.
The centre cooperates with more than 800 Russian and foreign companies such as Sberbank, VTB24, Citi, Goldman Sachs, Bank of America Merill Linch, Gazpromneft-lubricants, IBM, Rosneft, Google, Procter&Gamble, Coca-Cola, EY, Mercedes-Benz, Bloomberg, McKinsey, the Ministry of Economic Development of the Russian Federation, the Ministry of justice of the Russian Federation,the Ministry of Industry and Trade of the Russian Federation. The centre regularly holds joint events (presentations, seminars, master classes, workshops, business games etc) with these companies.
Every day we publish new vacancies for HSE students and graduates. Two times a year we hold career fairs, and also we organize career days on different faculties and round tables with our partner companies.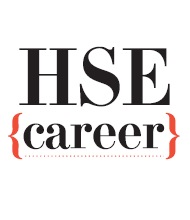 Have you spotted a typo?
Highlight it, click Ctrl+Enter and send us a message. Thank you for your help!