Employment Regulations
International full-degree students holding a student visa are allowed to work part-time in Russia. Exchange students may also work part-time but only if they are employed by HSE. 
You don't need a work permit if:
-You work in HSE University and its branches (in laboratories and institutes, as a teaching assistant),
-You take externships (unpaid internships and practice),
-You are a student from Armenia, Belarus, Kazakhstan and Kyrgyzstan (Eurasian Economic Union).
In other cases you must first obtain a work permit by submitting the following documents to the Federal Migration Service in MMC Sakharovo.
Steps for getting a job: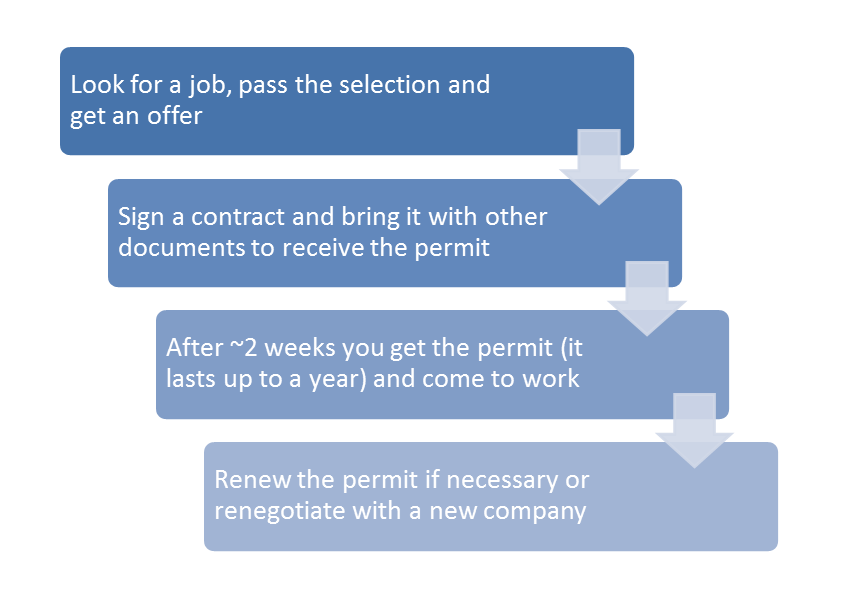 There is also a very helpful guide in Russian from other international student (with photos and maps) on how to get a work permit - https://vk.com/@maksimparshin_16-oformleniye-rnr-2018 


• First you need to get an offer from the company and sign a contract, and only then get a work permit for a specific contract! If the company says that to conclude a contract, you first need a permit - they in the wrong, it is against the law.
• Obtaining a permit will take 10-15 working days and 6 - 7 000 rubles (fee and medical certificates).
• Permits for international students are issued in MMC Sakharovo. The road there may take 1.5-2 hours, and you will have to go there three times: first to give the documents for verification and get medical tests, then to submit your medical certificates and corrected documents, and finally to pick up the permit.


Documents needed for the permit (all documents should be in Russian):
Application, 

2 copies (you can download it from Ministry website or here Заявление РНР студентам)

Passport, 

notarized copy and translation of this passport
Migration card and registration and their copies
Employment agreement/contract from the company (original, not a copy)
Health certificate proving general examination has been conducted, health certificate proving you do not have dangerous infectious diseases + HIV health certificate. All in all 3 certificates that cost ~ 3 000 rubles. You can get them all in MMC Sakharovo or in authorized hospitals)
Certificate (spravka) issued by the HSE that you are an HSE international student (sample: Форма справки

, 

issued by the faculty's study office)




Copy of your medical insurance policy

Just in case bring a digital photo on a memory stick and a printed one (3x4 cm in color).

Payment receipt for the work permit state fee of 3 500 rubles. You can pay for it in any Sberbank. Sample and details can be found here (регион - Москва, Главное управление Министерства внутренних дел Российской Федерации по городу Москве)


 
If you do not want to do it by yourself, you can contact agencies like 
BRP-Group
company that deals with visa services and work-permits for extra fee. 
Moscow Migration Center in Sakharovo
You need to carry the documents to MMC Sakharovo. Address: Moscow, p. Voronovskoe, Varshavskoe shosse, 64 kilometer, domovladenie 1, p. 47. The center is open daily from 8:00 to 20:00 without holidays.
You need to go to building №1 ("ВКС" / highly qualified specialists), 2nd floor, window №7. Foreign students are accepted without a queue.
If they refuse to accept your documents on the grounds that you need to submit them to the Territorial Department of the Ministry of Internal Affairs at the place of your residence / address of the University, then show them the official response of the Ministry - Ответ МВД 
After submitting all documents to the authorities you should receive the permit in 10 working days. 
The permit is issued for 1 year, then it must be extended. If a student has dropped out of school, the permit is revoked. If a student changes their job before the end of the current permit, they can work under this permit at the next place, but they are obliged to report the changes to the migration service of Russia within a week.
No work permit is required if you work during the holidays or on your university campus
Note: a 30% personal income tax will be applied to your salary until you stay in Russia for a total of 183 days within the last 12 months. After your stay in Russia exceeds 183 days, the tax rate will decrease to 13%.
No work permit is required if you are doing unpaid internship
If your intership is unpaid and does not require employment agreement - you do not have to get a work permit.  Letter of Ministry of Internal Affairs
If you are student of the Faculty of Pre-University training (on basis of 2nd and 33th Articles of Federal Law №273-FL 29.12.2012):
You must get a work-permit (and you have a right to obtain it) to work outside the university. You do not need to have a work permit to work in the HSE.
Have you spotted a typo?
Highlight it, click Ctrl+Enter and send us a message. Thank you for your help!
To be used only for spelling or punctuation mistakes.