Employment Regulations
International full-degree students holding a student visa are allowed to work part-time in Russia. 
Exchange students may also work part-time but only if they are employed by HSE (no work permit required in this case). 
There is also a very helpful guide in Russian from other international student (with photos and maps) - https://vk.com/@maksimparshin_16-oformleniye-rnr-2018 
For  advice on career and job opportunities at HSE and beyond please check the HSE Career Development Center. 
If you are interested in getting a part-time job off-campus, you must first obtain a work permit by submitting the following documents to the Federal Migration Service (all documents should be in Russian)*:
Application (download here)

Passport

Notarized copy of passport

Migration card, registration

Copy of migration card, copy of registration

Certificate issued by the HSE that you are a full-degree, full-time student (issued by the faculty's study office)


Employment agreement

Payment receipt for the work permit state fee of 3,500 rubles (fill in to generate a form)**

Health certificate proving general examination has been conducted*

Health certificate proving you do not have dangerous infectious diseases + HIV health certificate* (check the list of authorized hospitals)

a digital photo on a memory stick or drive

Certificate issued by the HSE that you are foreign citizen who studies on higher education program (sample: Certificate
* If you do not want to do it by yourself, you can contact
BRP-Group
company. It deals with visa services and work-permits.
**Payment receipt should be filled same as the example below: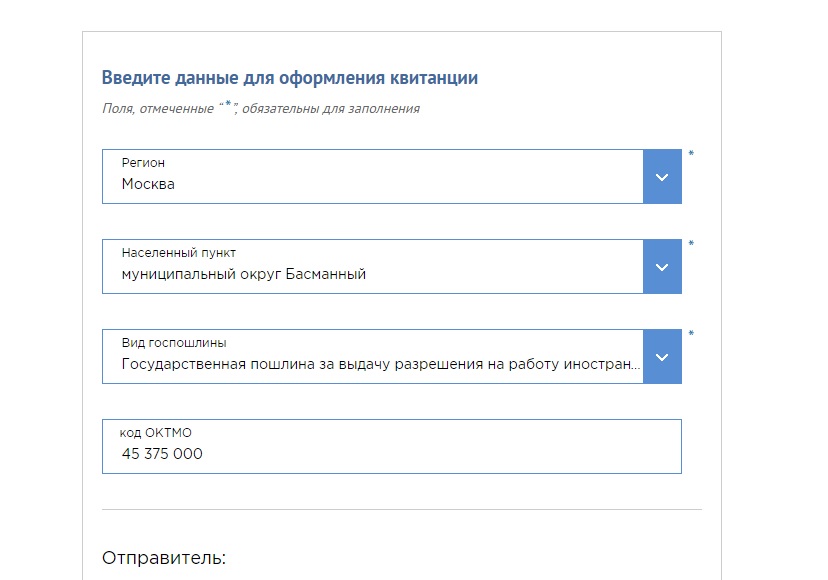 No work permit is required if you work during the holidays or on your university campus
Note: a 30% personal income tax will be applied to your salary until you stay in Russia for a total of 183 days within the last 12 months. After your stay in Russia exceeds 183 days, the tax rate will decrease to 13%.

No work permit is required if you are doing unpaid internship
If your intership is unpaid and does not require employment agreement - you do not have to get a work permit.  Letter of Ministry of Internal Affairs

If you are student of the Faculty of Pre-University training*:

You should get work-permit (and you can obtain it) if you are going to work outside the university

You do not need to have a work permit to working in the HSE
 
* According to 2nd and 33th Articles of Federal Law №273-FL 29.12.2012
Have you spotted a typo?
Highlight it, click Ctrl+Enter and send us a message. Thank you for your help!
To be used only for spelling or punctuation mistakes.